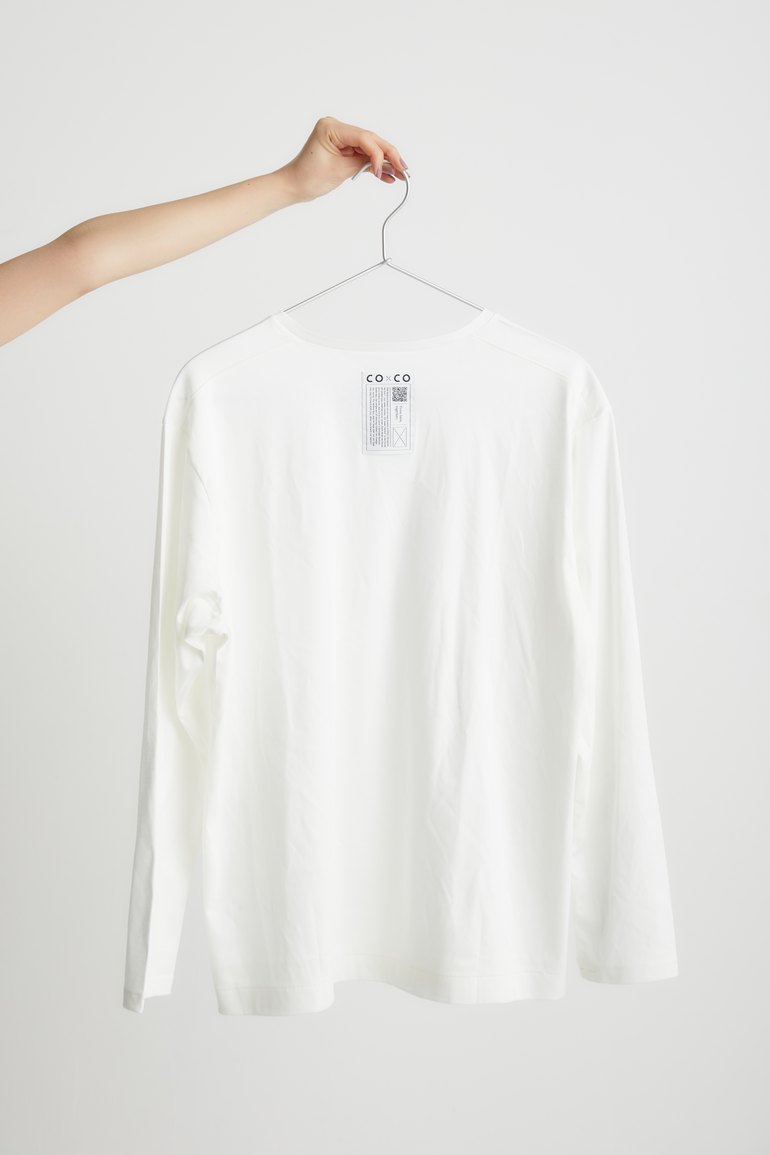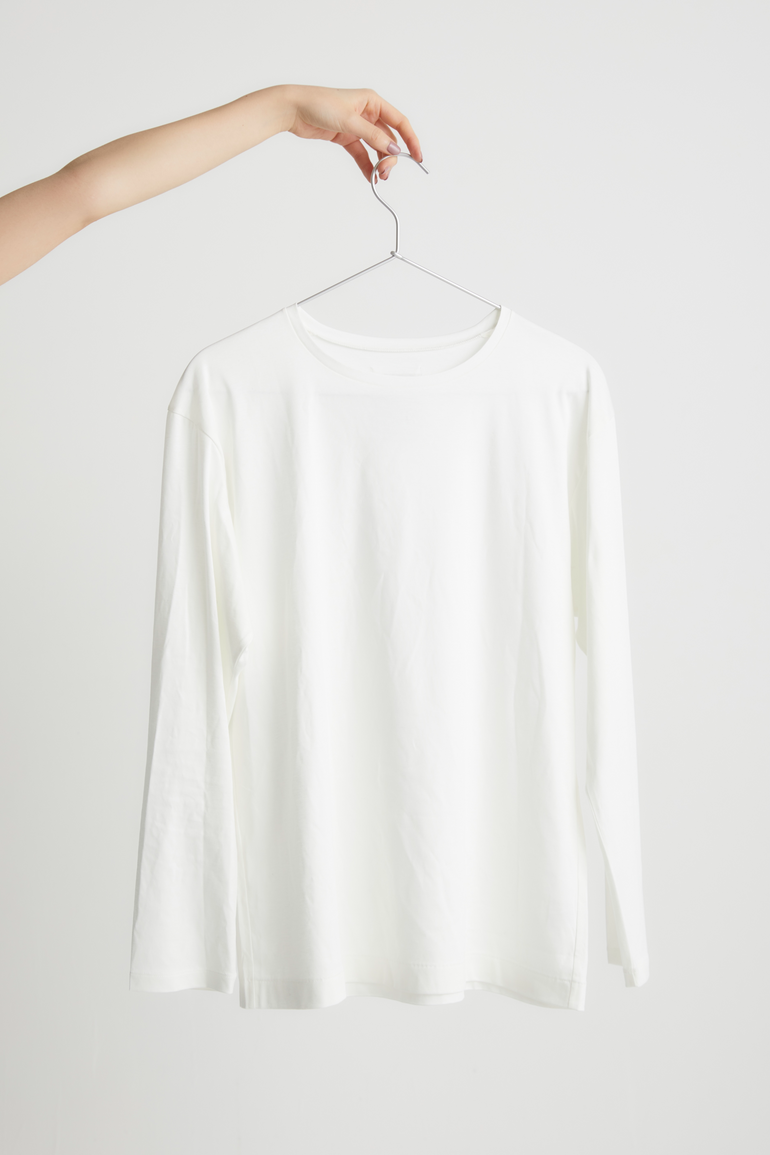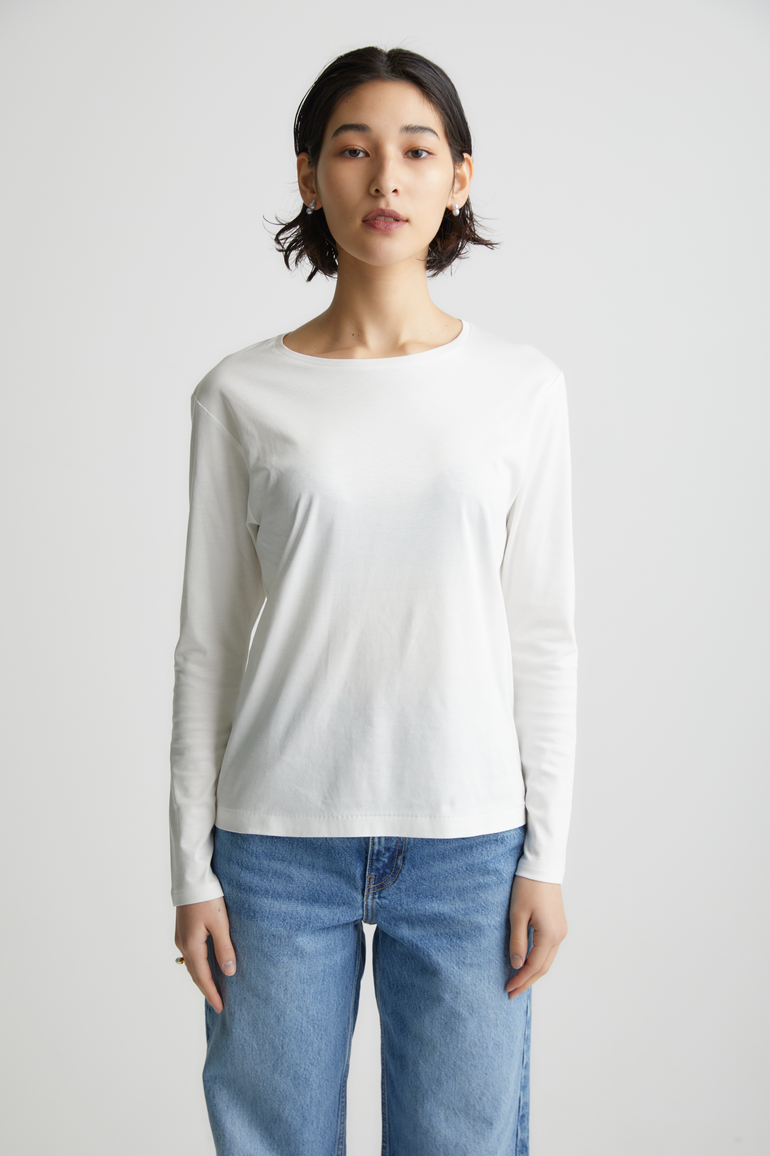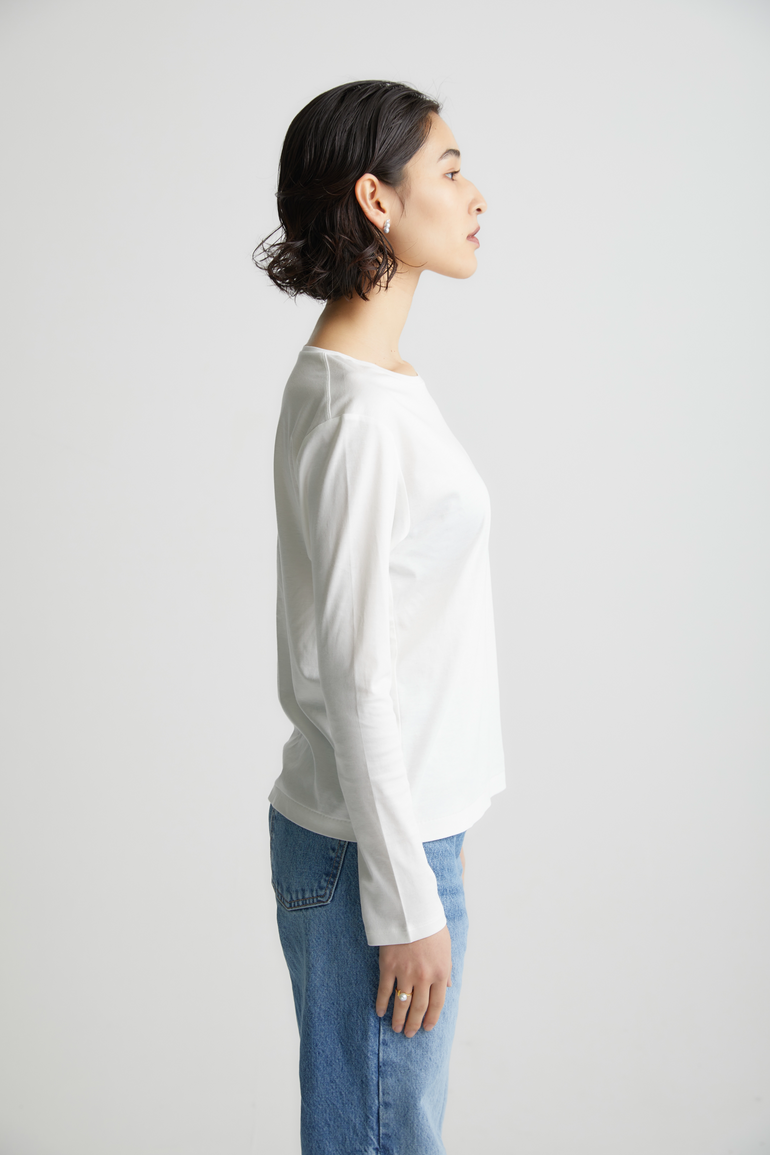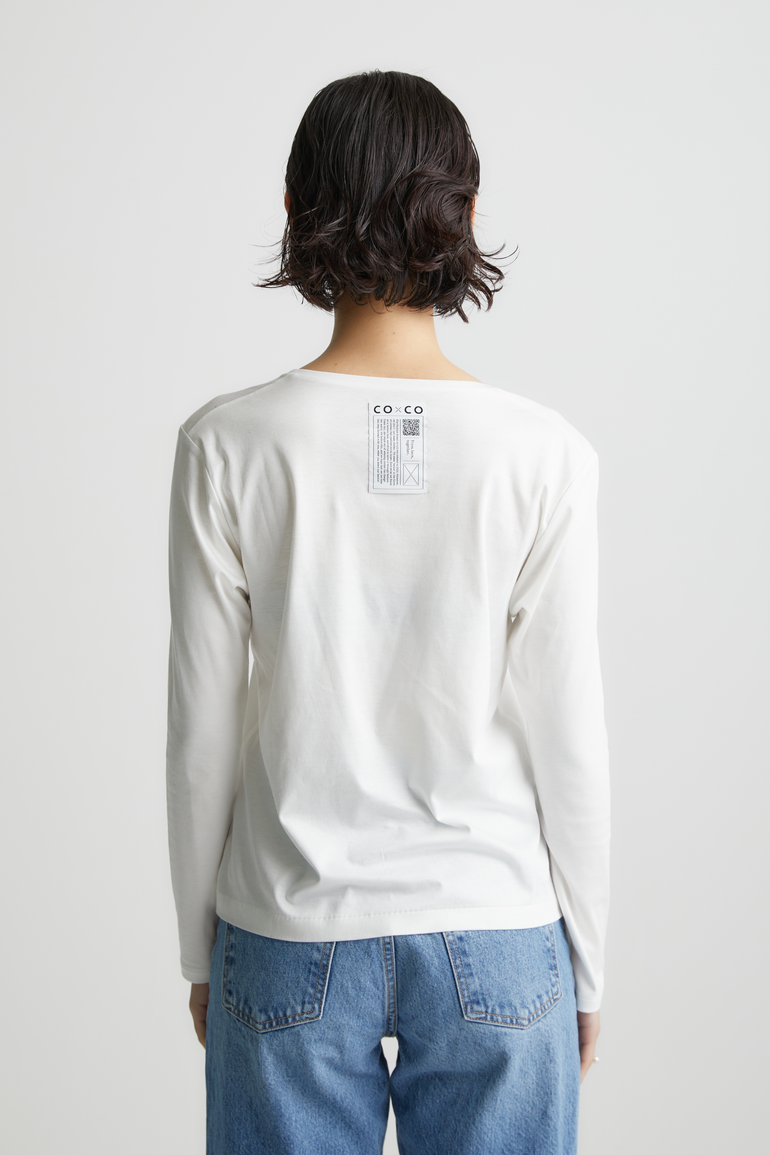 Standard Long T-shirts white
About the product
A long T-shirt made with a focus on the fabric, sewing production process, and silhouette.

The high-density and moderately firm fabric has a faint sheen, and the shirt has an atmosphere that can be worn as an inner layer of a jacket. It has a slightly loose body, but the cuffs are slightly narrow, so even if a woman wears a larger size, it will look neat and elegant.

Plain T-shirts are standard items and there are various products, but it is difficult to find your own standard item. It is also recommended for those who have had such troubles.
By reading the QR code on the tag, which is also the point of the design, with a camera, you can see the production process and the story of the product. In addition, an original paper describing the production background of the product will be attached as a set.
We hope that this item, which has many points that make you say, "This T-shirt is...", will be added to your standard.

Along with the product, we will send you a zine that introduces the production process.



*Zine is an image.
price: 14,850 yen (tax included)
* Shipping fee is 600 yen nationwide.
size guide: Unisex 2size (Unisex S-M/Unisex M-L)
Unisex SM size
Length 62/shoulder width 40/body width 47/hem width 48/sleeve length 58
Unisex ML size
Length 73/shoulder width 50/body width 57/hem width 58/sleeve length 61.5

※Unisex S-M wearing model height 165cm

color: white
material
30% cotton (organic from India), 70% rayon
Country of origin/production background
Made in Japan. We are particular about high quality sewing, and we produce at a sewing factory in Shimane Prefecture.
By producing in Japan, we aim to sustain the domestic sewing industry and reduce CO2 emissions during transportation.

STORY
Due to the use of large amounts of pesticides and chemical fertilizers by farmers, there are problems of land pollution and health problems for farmers. In addition, Indian cotton farmers are in debt trouble to purchase pesticides and chemical fertilizers, and more than 30,000 people commit suicide every year.

Aiming to convey this fact to as many people as possible and work together to find a solution, this time we used PBP organic cotton produced by Indian cotton farmers for the cotton part of the T-shirt material. By using this organic cotton, we will support the conversion of Indian cotton farmers to organic farming methods through PBP COTTON, a general incorporated foundation, and support the children of farmers for school attendance and scholarships.
Also, if you purchase one of these T-shirts, 10% of the sales will be used to support the fashion school "coxco Lab" operated in the Philippines by the affiliated NPO DEAR ME. "coxco Lab" is a fashion school that opened in Manila, Philippines in February 2023. It is a technical education school where you can learn design and sewing for free. In the future, we will employ graduates under the brand "coxco" and aim to solve various social issues by creating a cycle between "coxco" and "coxco Lab".

I want to make positive choices and challenges for the future through fashion with everyone.
Start together from, coxco.
From here, together.
---
We will ship within 3 business days after payment is completed.
The shipping fee will be 600 yen nationwide.
If the size of the ordered product does not fit, we accept size exchange.