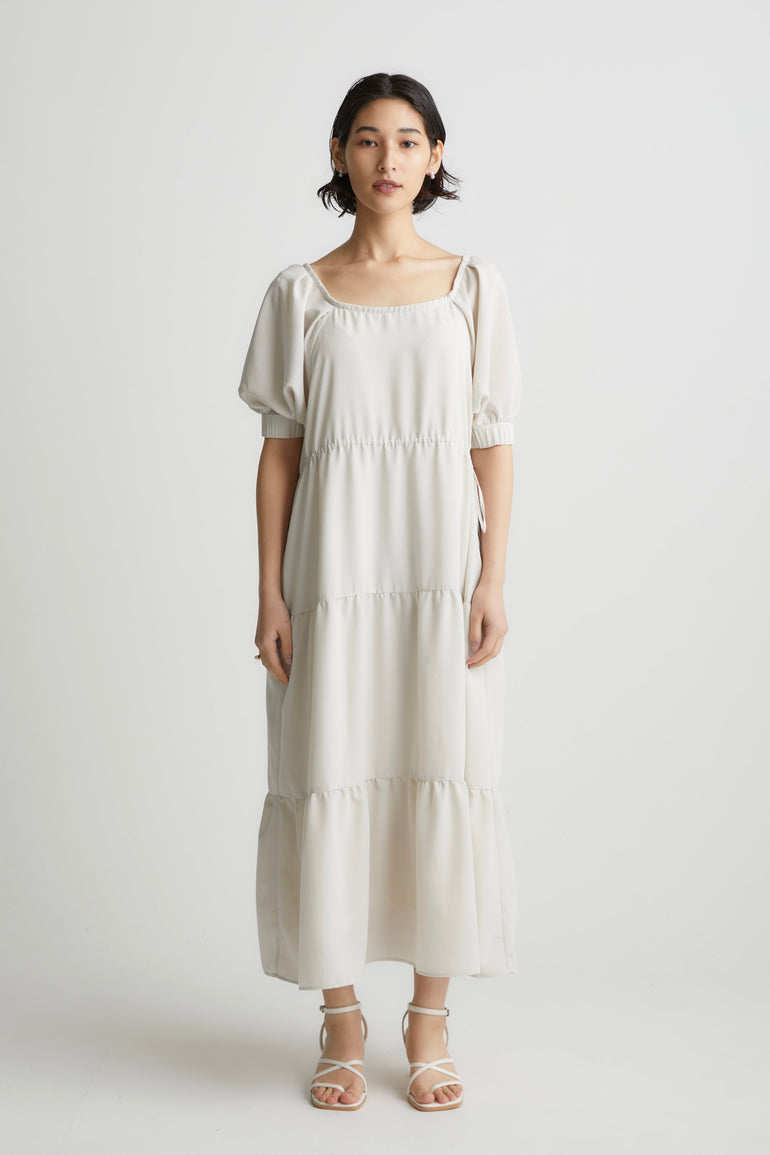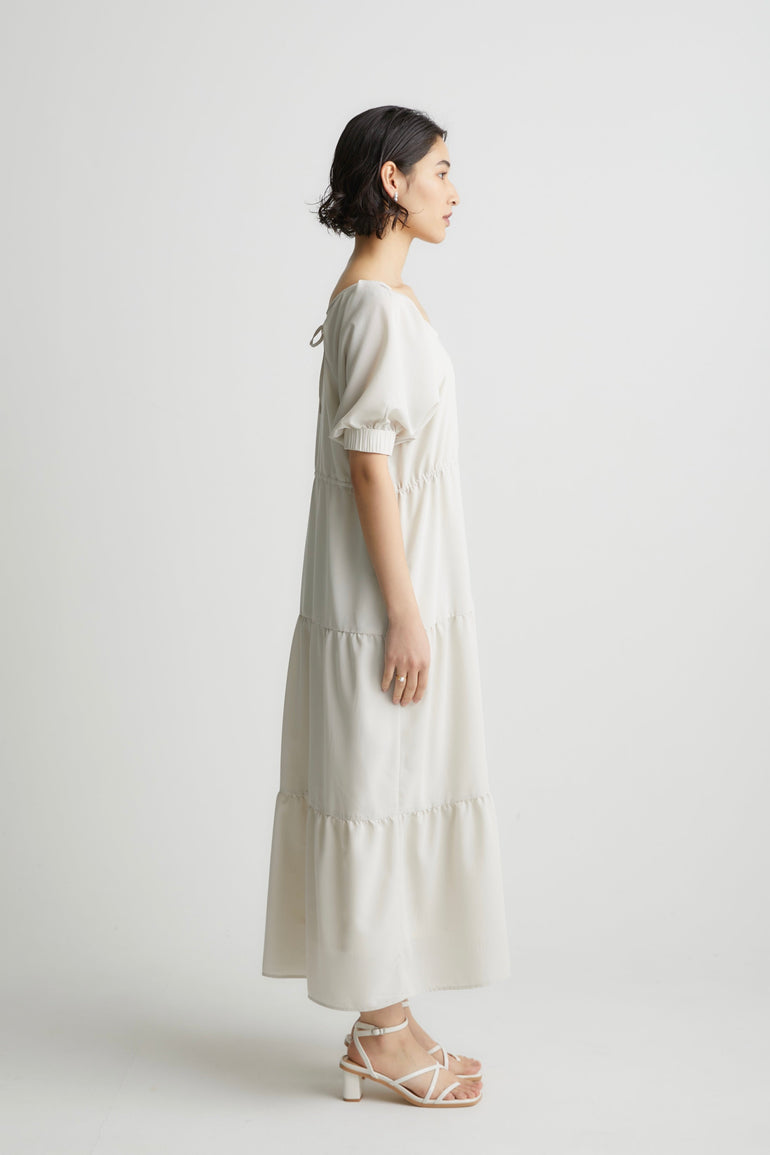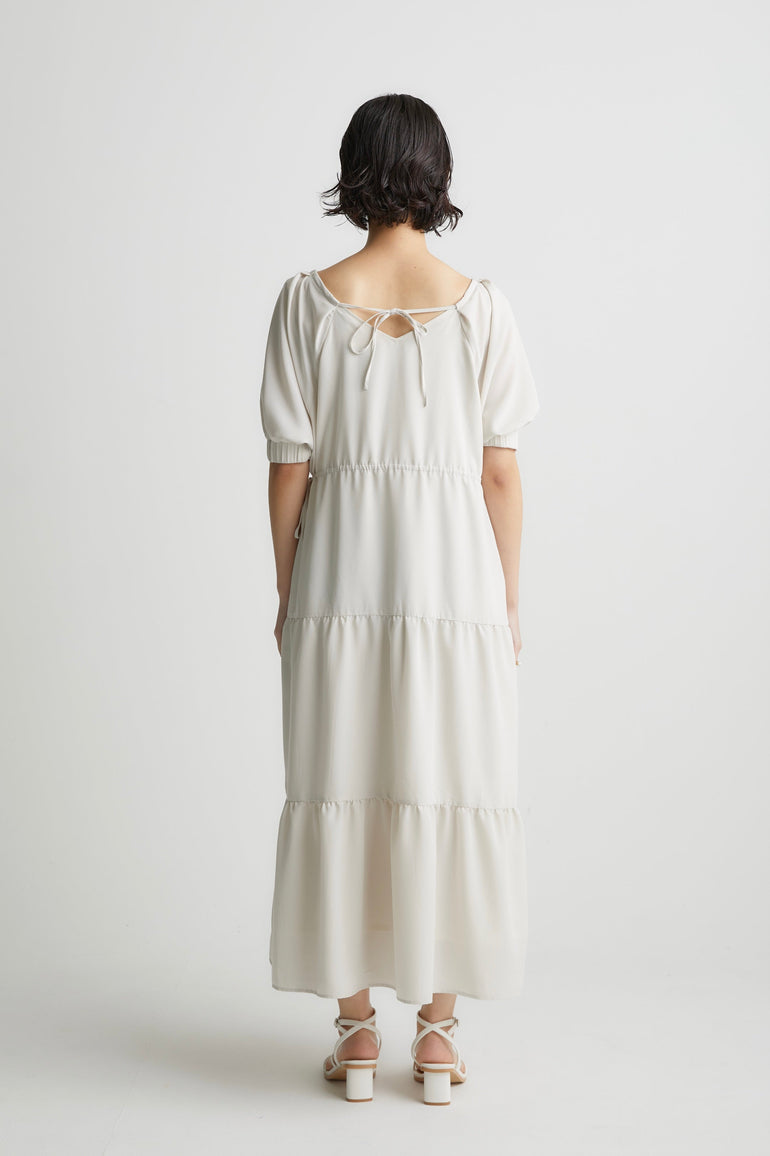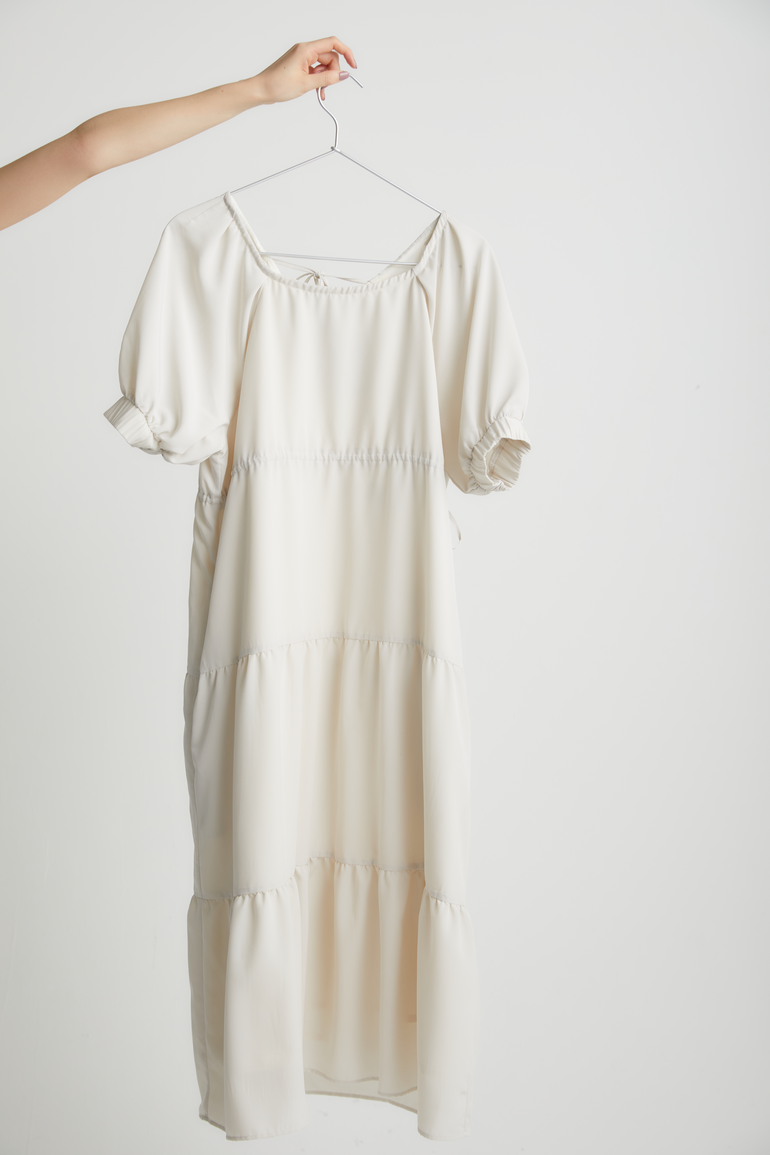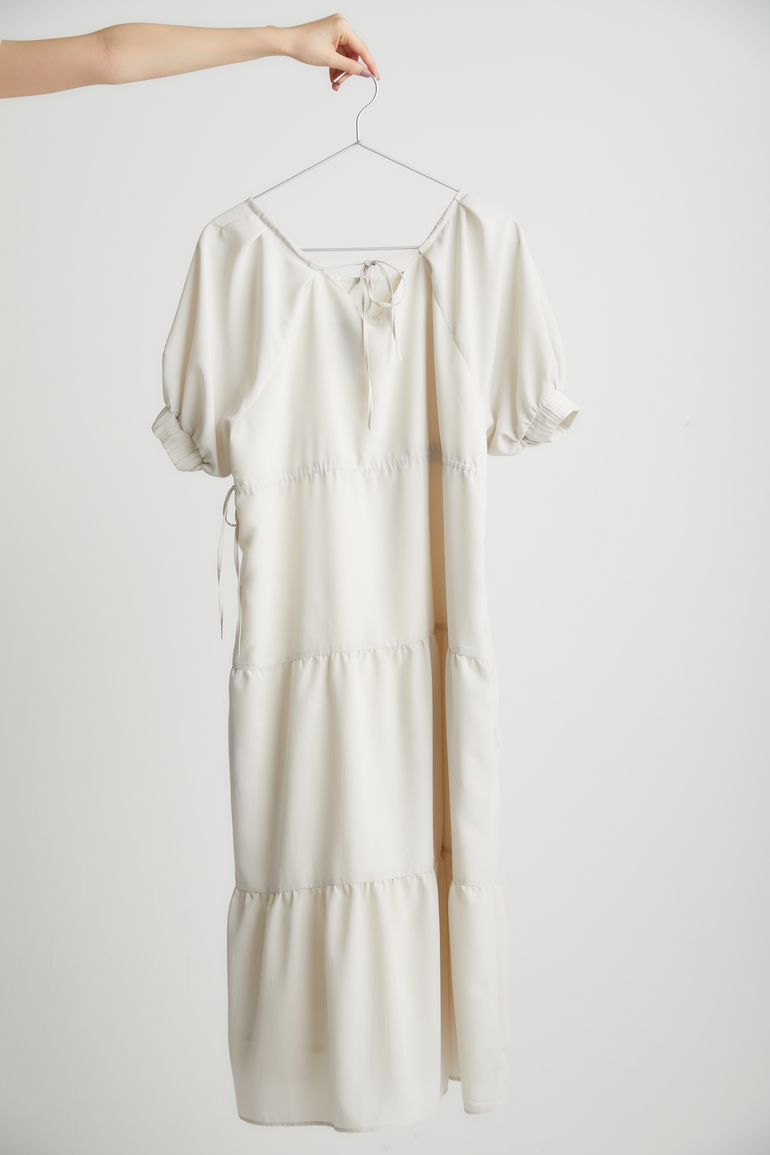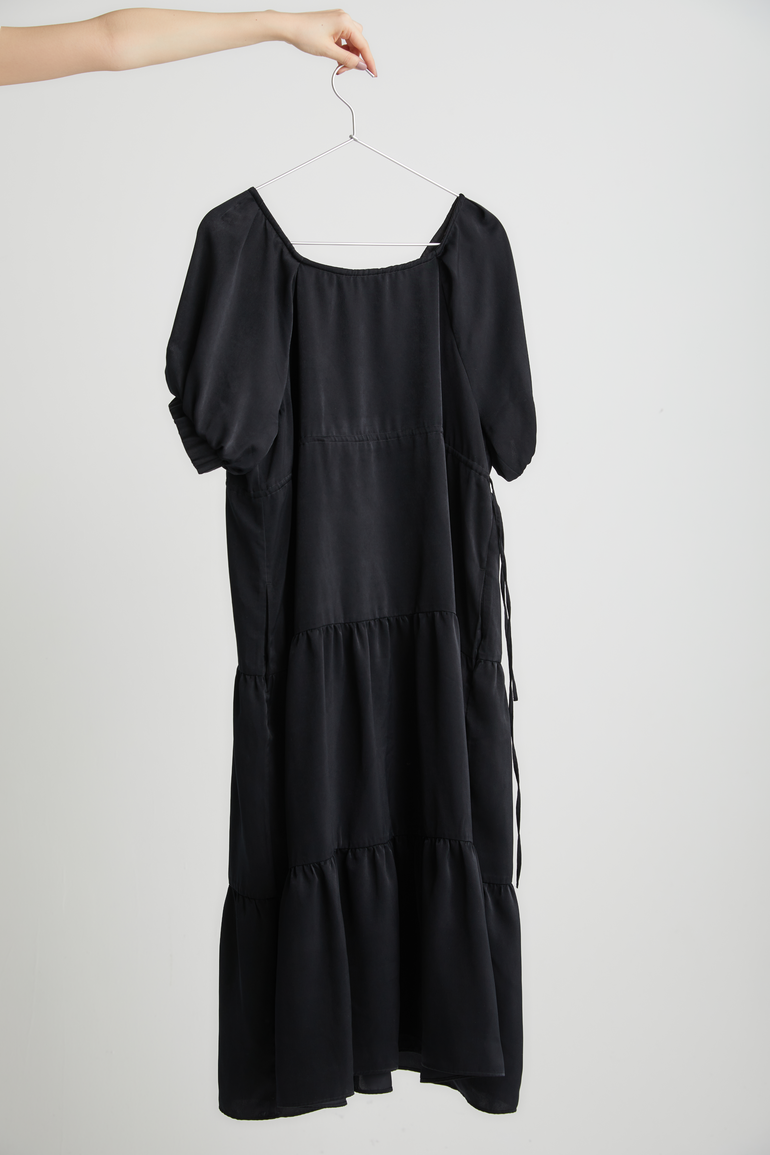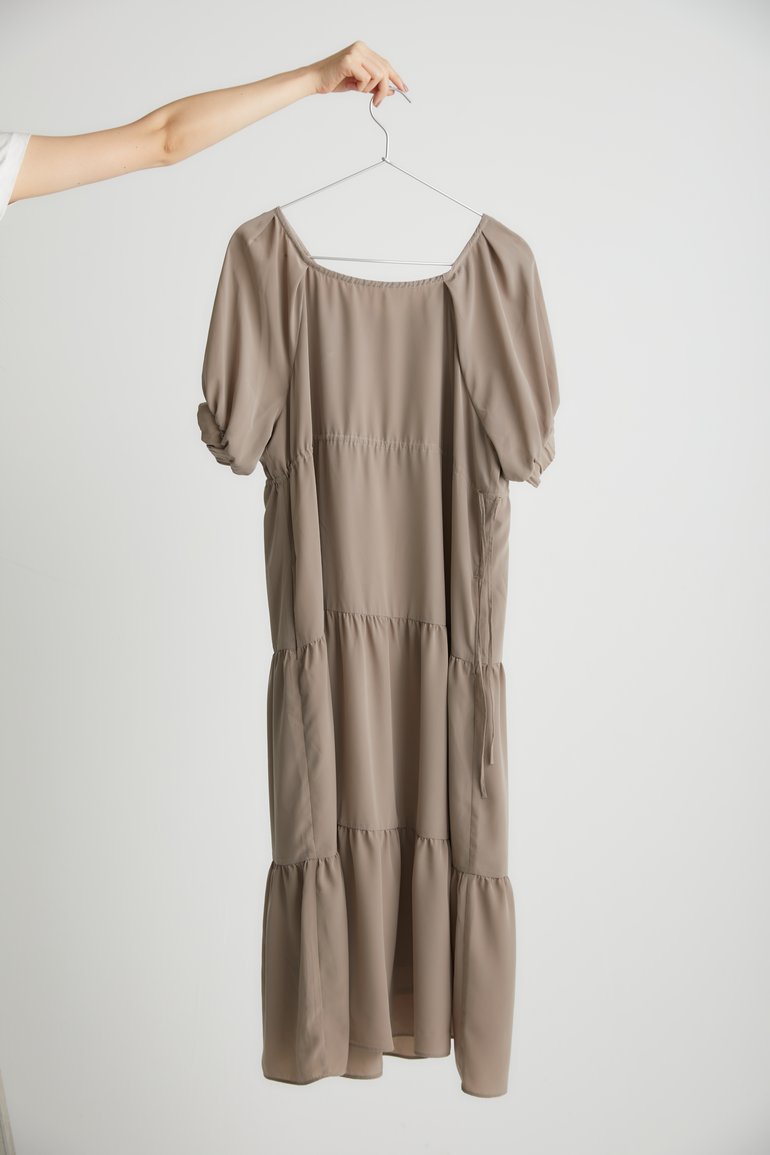 Vol.1+"Meguru" One piece [Ivory]
About the product
A dress that can be worn in 5 ways.
The front and back can be changed, and the size and how to wear it can be arranged with the underarm and neck straps, so the potential for mixing and matching is endless.

Based on the dress that coxco has loved since its early days, we have created an item that can be worn in a variety of situations.

With just the right amount of luster and supple texture, the gathered design looks expressive every time you move. Squeeze the neckline and chest ribbon tightly and pair it with heels for an invitation or office. It can also be opened to the maximum for an off-the-shoulder style with a resort feel.


If you wear it with the string loose, it can be worn at home or for a short outing.


In addition, the fabric varies depending on the color. Because the fabric is different, the point is that the comfort and texture are different depending on the color.
Black
The moderately lustrous and thick fabric is actually a new recycled fiber made from domestic used PET bottles. The fabric will have a suede feel.

Ivory, Beige, Light blue
High-quality fabrics made in Japan that were sleeping in a warehouse. Under the theme of the problem of 5 million tons of fabrics discarded annually in the world, efforts to carefully use existing resources without discarding fabrics.
Ivory and Beige are light fabrics, and Lightblue is a glossy and thick material like Black.

In addition, we will send you a zine that introduces the production process together with the product.

"This year, next year, and beyond, let's wear it again when this season comes."
I hope it will be the first place that you can think so.
POINT
・5way wearing ・With pocket ・With lining (Light blue is not see-through, so there is no lining)
・Persons with a height of 150cm or above can wear it (those with a height of 150cm can wear it without dragging the hem)

price: 35,200 yen (tax included)

size guide: FREE
Length 123/Width 57/Hem Width 120/Sleeve Length 42
* EC wearing model height 165 cm, LOOK wearing model 173 cm

Color: Black/Ivory/Beige/Light blue

material
Black (Made from plastic bottle)
Outer fabric: 100% recycled polyester
Lining: 100% cupro

Ivory material (Made from plastic bottles & remaining fabric)
Outer fabric: 100% recycled polyester
Lining: 100% cupro
Beige material (Made from remaining fabric)
Outer fabric: 100% polyester
Lining: 100% cupro

Light blue material (Made from remaining fabric)
Outer fabric: 100% polyester
Lining: None

Product delivery
* Shipping fee is 600 yen nationwide. After receiving your order, we will send it within 2-3 business days.

Attention
Please note that the product photo is a sample, and the actual product may differ slightly. As a change point, the length of the sleeve is about 3cm longer. I adjusted the length so that the upper arm can also be hidden.

MADE IN JAPAN (Akita Prefecture)
By producing in Japan, we aim to contribute to the continuation of the domestic sewing industry and the reduction of CO2 emissions during transportation.


---
We will ship within 3 business days after payment is completed.
The shipping fee will be 600 yen nationwide.
If the size of the ordered product does not fit, we accept size exchange.